Health Coaching
The 8 Best Health Coach Certifications In 2023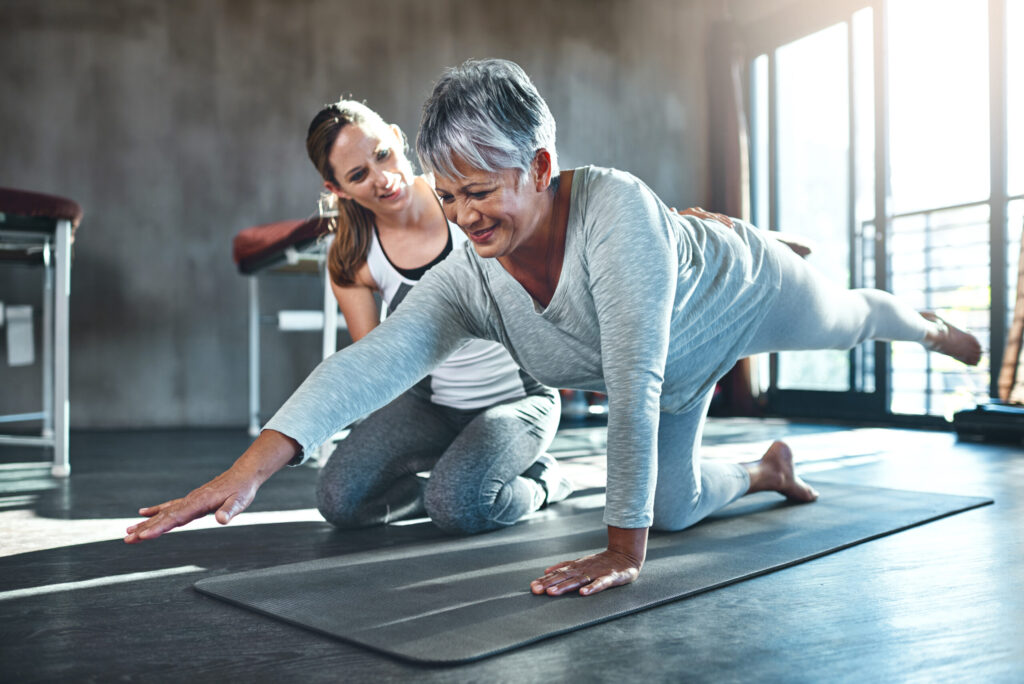 Are you overwhelmed by all of the health coach certification choices available online? With so many options, it is hard to determine which health coach certifications are reputable and which ones will most successfully give you the knowledge you need to start your career in coaching. To help you research programs and choose the one that's right for you, we've narrowed down our top eight health coach certification programs. We've already sifted through the options and found the best ones for you.
Let's dive into the eight best health coach certification programs and help you decide which course is right for you.
What is a Health Coach Certification?
You can earn a health coach certification when you complete a training program with skills that qualify you to practice health coaching. An institution or organization gives you a test or deems you to have completed the program successfully. Then, after you have demonstrated competence, you will receive a document or certification proving that you have the education and skills necessary to be a health coach for someone.
How to Become a Health Coach
A health coach is a person who gets to inspire healthy change in their clients. A health coach can also lead clients toward making long-term behavioral changes that will ultimately keep them happier and healthier. According to a recent study examining the benefits of health and wellness coaching, 82% of participants experienced health improvements after coaching.
Are you ready to join the ever-growing health coaching field and make a difference in someone's life? If your answer was "yes," you should look into health coach certifications. Even if you're not sure health coaching is right for you, but you're interested in learning more and adding skills to your toolbox, it's worth following these steps toward pursuing a certification:
Research the different health coaching certification programs available: You want to understand all of your options before you decide on the one that is right for you. Do you want a program that is specific to one niche, such as holistic healing methods, or a program that takes a broader focus? Researching the different programs available will help you determine the direction you want to take.
Choose a Training Program: Once you have dialed into the program, it's time to enroll and embrace your choice. Each program will have a unique length and structure. Some may be strictly online, some in-person, or often a combination of both. During the course, you can absorb all the necessary information and develop the skills to help you once you are coaching in the real world.
Put your skills to the test: Many programs will offer practice and hands-on training. Take advantage of any ways to practice what you are learning with others. Attend seminars where you can listen to mentors already in health coaching. Practice your skills with friends, classmates, or family. You must grow your skills and confidence so that when you have clients, they will sense that you know your stuff.
Pass your certification exam: Every program will have a different exam. To become a certified health coach and obtain credentials, you must pass the test to get the credit. Most programs offer a program syllabus that details what you will need to know to pass the test.
Decide your health coach career journey: Health coaching is a flexible career path that can take you in many different directions. Health coaches can coach privately or work as a member of a team. You have many options, and your unique journey will be up to you.
Health Coach Certification Exam
The health coach certification exams determine whether you have the knowledge and skills necessary to become a certified coach. The exam will also show you if you have gained the ability to go out on your own.
The exam specifics varied a bit based on each program we looked into. Most of the exams require a 70-85% pass rate, but they offer you more than one try to pass. If you take time to study all of the information you receive in your course, watch the required videos, and practice the interactive lessons, you should be able to pass all of the exams on this list.
Certification is important because it will help you stand out in the ever-growing health coaching field.
Selection Methodology
We investigated a variety of health coach certifications and programs. To select our top health certification programs, we considered determining factors like:
Features and Benefits: The important features of each certification that differentiated it from the rest of the courses.
Cost and Duration: How much will the course cost, and how long does it take to complete?
Prerequisites or Requirements: What skills or qualifications do you need before you can enroll in the course?
Job Outlook and Career Path: Will this certification help you secure a health coaching job and what will your career choices look like?
Based on these factors, we chose our favorite health coaching certification programs and discussed them below.
8 Best Health Coach Certification Programs
Our top picks stood out for the content covered and the likelihood of getting a job after certification. We also included specialty programs, such as programs that focus on holistic health or those best suited for clinicians.
The eight we list here are reputable and comprehensive, each with a unique component. These programs include:
Best Health Coach Certification for Nurses
The National Society of Health Coaches (NSHC) Health Coach Certification is a health coaching program designed by healthcare professionals for healthcare providers and clinicians. This certification is the only one that is only offered just for clinicians. Lay people can still take the course, but you must have the appropriate medical credential to receive certification.
The NSHC is an accredited and approved continuing education provider through the American College of Sports Medicine (ACSM), the CDR, and Scully Health Management, Inc.
Features and Benefits of Each Certification
The NSHC program is based on Evidence-based Health Coaching (EBHC) and teaches the basis of motivational interviewing. The course features 12 sections, including identifying your communication style and tapping into the client's learning style. In addition, you'll learn about wellness and prevention, techniques for changing behaviors, and the effectiveness of positive psychology.
Along with either a hard copy or digital copy of the text, you will have access to live practice webinars, online skills practices, and other resources available to members only.
Cost and Duration of the Program
The cost for the NSHC program is $875. However, you can get a group discount if you have a group of five or more.
Prerequisites or Requirements for Enrollment
The NSHC certifies clinicians and nurses who are practicing health coaching. There are no prerequisites to taking the course. However, if you want to get the certification, you must hold eligible medical credentials.
The program is self-paced, but a minimum of 85 hours is recommended to complete it.
Job Outlook + Career Path
The health coaching industry is expected to grow to more than $25 billion by 2030. Doctors and nurses who can also offer health coaching will be more attractive to employers, have higher earning potential, and will be better able to assist their patients. 
Best Accredited Health Coach Certification
As part of its Certified Health Coach courses, the Dr. Sears Wellness Institute allows you to specialize in one of its three life-stage courses, including families, adults and seniors, and pregnancy. You can choose to enroll in one, two, or all three.
The first six weeks provide a foundation of information and content for the selected life stage. If you choose more than one, there will be an extra three weeks for each.
The Dr. Sears Wellness Institute provides three distinct accreditations for all certifications, including:
ICF: International Coaching Federation
NBHWC: National Board for Health and Wellness Coaching
CDR: Commission on Dietic Registration
Features and Benefits of Each Certification
The Certified Health Coach offers training based on Dr. Sears' four pillars of health, which include:
Lifestyle
Exercise
Attitude
Nutrition
The families course teaches you techniques for coaching parents and families. You will learn about healthy nutrition, various coaching methods, and strategic marketing.
The adults and senior care course focuses on exercise, the impact of exercise on health, and other healthy eating tips for people in their golden years.
The pregnancy-specific course teaches how to keep both mom and baby healthy during pregnancy and after birth.
Cost and Duration of the Program
The Health Coach Certification with one life stage is a six-week course that costs $945.
The Health Coach Certification course with two life-stage training specialties is a 9-week course that costs $1,345.
The 12-week Health Coach Certification course includes all three stages of life and costs $1,645.
Prerequisites or Requirements for Enrollment
To enroll in Dr. Sears Wellness Institute courses, you must be at least 18 years old and have a diploma or equivalent.
Because they offer such a comprehensive curriculum, these are the only prerequisites.
Job Outlook + Career Path
People are now, more than ever, deciding to be proactive about their health. Companies are beginning to hire health coaches for their employees and families and seniors are more interested in consulting with an expert about their health. Pregnancy coaching is currently a growing field, and more pregnancy health coaches are needed each year.
Thanks to its life-stage specialization, this course has the potential to set you up for several different health coach career choices.
Cheapest Health Coach Certification
The American Council on Exercise (ACE)'s Health Coach Certification is one of the cheapest certification options. This course is an NCCA-accredited health coach program that uses specific tools known as "the ACE Mover Method." The ACE Mover Method includes active listening, motivational interviewing, and behavior-change coaching techniques to promote long-term change in clients.
Features and Benefits of Each Certification
The ACE health coach certification has two tracks: a health coach study program and a health coach advanced study program. With this course, you will study behavior-change science and lifestyle medicine, and learn why they are so important to health coaching. In addition, you will learn practical health coaching skills to assist clients in making lifelong changes.
Cost and Duration of the Program
The cost of the program is dependent on the package you choose:
Basic package: $779
Plus plan: $989
Advantage plan: $1,379
For each package, you will receive a hard copy and audiobooks, and a digital copy of the text. Additional perks and resources are included in the plus and advantage plans.
The courses are self-paced, but people generally complete them in as few as 3 to 6 months.
Prerequisites or Requirements for Enrollment
To sign up to become an ACE Health Coach, you must be 18 years or older with an up-to-date government ID and have current CPR and AED certifications.
You will also need to submit proof of one of the following:
Up-to-date NCCA-accredited certificate in fitness or a related field
An associate's degree or higher
A minimum of two years of work experience
A satisfied health coach program approved by the NBHWC
Job Outlook + Career Path
Around 65,500 fitness trainer jobs are projected to pop up each year. An ACE Certification will help your resume stand out, especially for the hundreds of jobs currently available on the ACE platform.
Best Holistic Health Coach Certification
The International Association of Wellness Professionals (IAWP) Holistic Wellness Coach Certification offers education in holistic and alternative healing methods.
Features and Benefits of Each Certification
The Holistic Wellness Coach Certification includes three different steps:
First Step: The 12 parts of the Wellness 360 system. You will learn about things like chakras, plant medicine, nutrition, and emotional well-being.
Second Step: The CORE Coaching Method, which includes coaching skills paired with psychology skills. This section also consists of 12 modules that focus on the how-to aspect of coaching.
Third Step: Coach Launch, which provides 12 sections that cover how to get your holistic coaching business up, running, and making money.
The program is Continuing Coach Education (CCE) accredited by the ICF.
Cost and Duration of the Program
The IAWP Certified Holistic Wellness Coach course can be paid upfront for $4,950, or monthly for $295/month with a $1,950 down payment.
Most students usually complete the course in six months, but the system is self-paced.
Prerequisites or Requirements for Enrollment
There are no prerequisites for enrollment in this course.
Job Outlook + Career Path
According to Glassdoor, wellness coaches in the United States make an estimated $65,930 annually.
Best Mental Health Coach Certification
The Wellcoaches School of Coaching offers a Certified Health and Well-being Coach Certification. The process is different from other courses as there are four steps you must take to become certified and eligible to take the National Board exam.
Features and Benefits of Each Certification
This course requires four courses:
Step 1: This section, Core Coach Training Module 1, includes building self-efficacy and establishing growth-promoting relationships. To proceed to Step 2, you must pass this module with an 80%.
Step 2: This section deepens your understanding of the information in Step 1 and puts it into practice. You must score 80% on tests to move on to Step 3.
Step 3: This step tests what you have learned through an exam, individual mentoring sessions, and a skills assessment. After completing Step 3, you will be certified as a Certified Health and Well-Being Coach.
Step 4: This is an additional step where you can earn a Lifestyle Medicine Coach Certificate.
Cost and Duration of the Program
Step 1: Core Coach Training module 1 can be completed as a nine-week, four-week, or four-day program. It is $1,785 for virtual learning or $2,145 to take the course on-site
Step 2: $215, duration varies
Step 3: $845, duration varies
Step 4: $275 with a bundle or $435 if purchased separately. This course is 21.5 hours of self-paced learning.
Prerequisites or Requirements for Enrollment
You must have one of the following:
Four thousand hours of work experience or
two years of work experience OR an associate degree or international equivalent.
Job Outlook + Career Path
According to Indeed, the average salary for a behavior coach is $40,462. The mentorship program in this course will help you network with other coaches and make potential job connections.
Best Nutrition Health Coach Certification
Precision Nutrition began in 2005 and is one of the world's largest nutrition organizations focused only on science-backed nutrition. Precision Nutrition offers a level 1 or level 2 nutrition certification. This is a good option if you want to focus your health coaching career on nutrition science.
Features and Benefits of Each Certification
PN Level 1 Nutrition Certification: The magazine, Business Insider, named this online course the number one online course for nutrition certification. This course helps you teach clients how to eat correctly to improve their mental and physical health. Enrollment includes interactive online materials, three textbooks, real-world case studies, and coaching tools.
PN Level 2 Master Health Coaching Certification: This is known as their master coaching course. The Level 2 program is an Approved Health and Wellness Coach Training & Education Program by the NBHWC. After completing the training and testing, this course will allow you to become a board-certified health and wellness coach with NBC-HWC credentials.
Limited spots are available for these programs, so you must get on a waiting list to receive a spot.
Cost and Duration of the Program
Level 1: The cost is $119 a month for 12 months. If you are on the waitlist, you can save money by only paying $999 all at once or $99 per month for a year.
The class is self-paced, but the course has 20 chapters, so if you completed one a week and dedicated 3-5 hours a week to it, you could earn the certification in around 4 or 5 months.
Level 2: The level 2 master course costs $4,788 or $399 monthly. If you join the waitlist for the master class, you can secure a spot and save money. If you are on the waitlist, you can make a one-time payment of $2,699 as early bird pricing.
This course takes 20 weeks to finish.
Prerequisites or Requirements for Enrollment
They ask that you have essential reading, writing, communication, time management, and self-organization skills.
Job Outlook + Career Path
According to their website, the average PN graduate from Level one makes $65 to $130 per hour.
Best Online Health Coach Certification
Integrative Nutrition was founded in 1992 and began as a cooking class in New York City. Now, this dual-licensed health coaching school has trained over 155,000 students all around the globe.
Features and Benefits of Each Certification
The IN Health Coach Certificate has an orientation module and 40 core education modules. The course covers topics in nutrition, nutrition science, functional medicine, and lifestyle. Everything is online and comprehensive.
The system also provides some modules on holistic health and ways to connect the mind and body for positive change. When you complete the course, you will receive a certificate of completion and the Integrative Nutrition Health Coach title.
Cost and Duration of the Program
The cost of the program is $6,795.
You can do either a 6-month or 12-month track but go at your own pace within the structure of your choice.
Prerequisites or Requirements for Enrollment
To take this course, you must have a high school diploma, a GED, or an equivalent.
Job Outlook + Career Path
According to ZipRecruiter, a healthy lifestyle coach averages around $46,703 annually. However, by gaining a certification and the prestige of a course like this one, you increase both your hireability and earnability.
Best Wellness Coach Certification
The National Academy of Sports Medicine (NASM) began in 1987 and has trained over 1.4 million students.
The accredited NASM Certified Wellness Coach (NASM-CWC) program encompasses many wellness-focused topics.
Features and Benefits of Each Certification
NASM-CWC's topics include:
Fitness
Mental well-being
Emotional well-being
Nutrition
Recovery and regeneration
Coaching
The course is focused on evidence-based techniques to help clients have a better sense of overall wellness. The interactive learning is delivered online and includes a high-end digital platform with downloadable materials and real-life scenarios guided by experts in the field.
Cost and Duration of the Program
The cost of the course is $6,499. This is a one-year, self-paced course that consists of 35 chapters and a final exam.
Prerequisites or Requirements for Enrollment
The NASM suggests you have a fitness credential, but it is not required.
Job Outlook + Career Path
According to Indeed, with a health coaching certification, you could pursue any of the following career paths:
Health coach
Recovery coach
Community health worker
Corporate or private health coach
Of course, there are other options, and courses like this one, which introduce you to experts in the field, can help you find the one that's right for you.
Tips for Choosing the Right Health Coach Certification Program for You
There are some questions that you need to ask yourself when you are choosing a health coach certification course, including:
What courses are in your price range?
Are there payment plans available?
What is your motivation for wanting to become a health coach?
Will you make this a full-time career or just a side hustle?
Which curriculum suits your career goals?
Do you want classes that are online, in-person, or a combination of both?
What type of training practice do you want?
What degrees or certifications do you see at the end of your name?
What does your future career look like?
Will you work for a big corporation, work for a small business, or start your own private business?
To Wrap Up
Health coach certifications prepare you for the health coaching profession and give you an edge over the crowd. While any of the programs listed here will help you succeed in whichever health coaching niche you choose, the NSHC's Health Coach Certification is the best choice overall.
The NSHC's Health Coach Certification is comprehensive, affordable, and designed with clinicians in mind. You can stand out as a professional when you choose NSHC. Apply for our program and begin your health coaching journey today.
Sources
Health and Wellness Coaching Improves Weight and Nutrition Behaviors
Dr. Sears Wellness Institute Certified Health Coach
The American Council on Exercise (ACE) 's Health Coach Certification
The International Association of Wellness Professionals Holistic Wellness Coach Certification
The National Society of Health Coaches (NSHC) Health Coach Certification
The Wellcoaches School Certified Health and Well-being Coach Certification
Precision Nutrition Level 1 Nutrition Certification
Integrative Nutrition Health Coach Certificate
The NASM Certified Wellness Coach (NASM-CWC)
Health Coaching Certification for Nurses & Clinicians
Behavior Coach Salary in United States
Healthy Lifestyle Coach Salary