Health Coaching
Health Coach Job Description 2023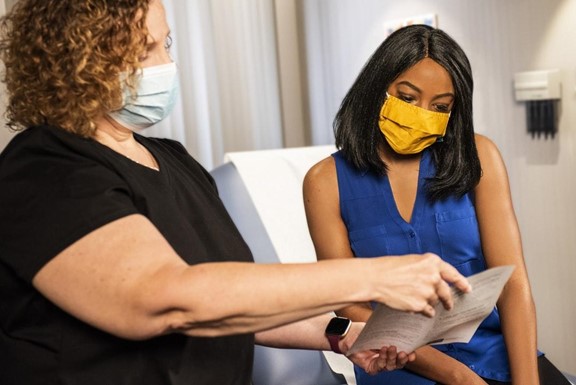 Health coaching is an exciting and steadily growing field. Newcomers to healthcare and industry veterans alike are drawn by opportunities to make a positive impact on the health and wellness of individuals.
Still, for many people, the official health coach job description is shrouded in mystery. If you're looking for a new position with a healthcare company, you might not be sure how to describe your current or previous experience on your resume.
Despite the somewhat uncharted territory it represents, there is a standard job description for health coaching. Let's take a closer look at how to describe your work as a health coach on your resume.
What is a Health Coach's Job Description?
A health coach's job description details the specific duties and responsibilities that characterize the day-to-day workload of a health coach. A standard description characterizes the profession as follows.
Health coaches:
Enable clients to make long-term, self-directed changes consistent with their values to improve health, wellness, and general well-being.
Offer unconditional support and encouragement to their clients and their ability to implement lasting change.
Believe that the most qualified party to make decisions about a client's health is the client.
It's important to understand the distinctions between health coaching vs. wellness coaching. Wellness coaches provide support to people who want to adopt healthier life habits or stay committed to new habits they've already adopted, while health coaches help clients assess current habits, determine desired changes, and develop strategies for success. 
Join Our Community
Become a Certified Health Coach and join a network of empowered clinicians.
Learn More!
Health Coach Job Description Example
A health coach job description paints a portrait of the functions that health coaches serve, usually by outlining the regular tasks and responsibilities of the role. An employer's description may include the specific qualities and attributes of an ideal candidate, as well as the position's educational and background requirements.
A description of a health coach's responsibilities may be painted in broad strokes. For example:
Consult with and evaluate new clients
Devise healthcare plans according to client's needs
Maintain records of client's goals and progress
On the other hand, health coach job descriptions may provide a more detailed overview of the position:
Counsel clients to asses their overall health and determine long-term goals
Help clients develop strategies for achieving goals, including meal planning and crafting physical fitness routines
Collaborate with other care providers to ensure that strategies align with overall treatment plans
Crafting a Health Coach Job Description For Your Resume
A health coach job description for a resume should make your work history compelling to potential employers. It's not enough to merely list the responsibilities of past positions. Instead, you should link the duties you performed to outcomes that present yourself as an effective coach as opposed to one who is task-oriented. Your resume should include:
A summary section describing your approach to coaching and a few of your biggest professional accomplishments
An experience section that details your work history in terms that highlight your qualifications and past responsibilities
An education section that lists your academic credentials
After you've polished your resume and applied for positions, spend some time preparing to meet your future employers. To ensure rave reviews, be sure to develop compelling answers to some common health coach interview questions, like:
What's the nature of your clinical experience or medical background, if any?
What are your strategies for managing difficult clients?
What are some recent industry developments you find especially exciting?
Health Coach Responsibilities and Duties
Perfecting your health coach job description is a lot easier when you can align your work experience with a standard set of responsibilities. The basic duties of a health coach include:
Working with clients to enable a deeper understanding of their desire to make lifestyle changes
Conversing with clients to develop clinical and evidence-based strategies to create change
Enabling clients to self-manage their health and achieve desired outcomes
The Role of a Health Coach
People often turn to health coaches when they develop or are at risk of developing serious conditions, including hypertension, diabetes, or coronary disease. The role of a health coach is to provide guidance and support that enables the client to make changes that improve their condition or minimize risk factors.
The impact of health coaching reverberates beyond the boundaries of the coach-client relationship. A coach's influence over the client's well-being can affect everyone from their friends, family, and colleagues, to other healthcare providers and their wider communities.
Understanding the Impact of Health Coaches On Individual and Community Health
Individual health and community well-being are closely entwined. For example, individual health is influenced by several social factors, including:
Economics
Social policies
Resource availability
Likewise, society benefits from healthy individuals who may be more active in their communities and more productive at work. By supporting the health of a few clients, health coaches help improve entire communities.
Collaborating With Healthcare Professionals and Other Stakeholders
The role of a health coach does not exist in a vacuum. On their clients' behalf, coaches commonly interact with a range of professionals, from community organizers to providers of social services. They may also collaborate with other healthcare professionals that serve their clients, such as:
Primary care providers
Specialists
Nurses
Empowering Clients to Make Sustainable Behavior Changes
To empower their clients to make positive, long-term changes and take control of their health, health coaches marshal the power of a catalog of skills tools, like emotional intelligence, active listening, and specialized coaching techniques, such as Motivational Interviewing (MI).
MI is a collaborative approach wherein coaches engage clients in conversation to learn about their concerns, motivations, and desired health outcomes. Then, the coach and client work together to develop a care plan that's aligned with the coach's expertise and the client's ambitions.
The Health Coaching Certification For Nurses & Clinicians is the best way to learn these invaluable skills. This one-of-a-kind course of study was developed by clinicians for licensed professionals like nurses who are pivoting to health coaching. It's designed to help these professionals apply the skills developed in their career to their new line of work as a health coach. It's more than just a certificate — they will step into this new field with a comprehensive understanding of Evidence-Based Health Coaching and its unique methods.
Health Coach Requirements
Since health coaching is an unregulated industry, there are no government certifications or licenses issued at either the state or federal level. Instead, health employers impose their own requirements regarding credentials. For example, many positions require an associate's or bachelor's degree in a relevant field, such as nutrition or dietetics.
As a health coach, education is ongoing. One of the most important health coach's responsibilities is to be diligent about developing professionally by staying up-to-date in the industry. To stay in the loop, health coaches should:
Attend industry events like conferences, conventions, seminars, and webinars
Register for a membership with a board-recognized industry organization, like the NSHC, for access to resources, community, and Live Practice Webinars
Keep in touch with industry peers
Advance Your Career
Elevate your clinical practice with our Health Coach Certification.
Get Certified!
Introducing the Health Coach Job Description & Appraisal Packet
One valuable resource available to help health coaches succeed is the Health Coach Job Description and Appraisal Packet. Designed to help health coaches and their employers develop a clear set of standards and assess performance, the packet features:
A general health coach job description and summary
A performance outcome-based appraisal kit with a worksheet and optional tally sheet
An appraisal summary
The packet also includes standardized coaching assessments, agreements, a self-evaluation checklist, and an outline for follow-up sessions. In short, this packet is a guide to meeting the requirements of the health coach job description and the standards of the industry. Order yours today.
Benefits of an Outcome-Based Appraisal
There are two primary benefits of a performance appraisal method based on evidence and outcome. They are:
A results-oriented system that encourages incentivizing and rewarding practice achievements, with optional ideas on how to implement
A clear and cohesive set of expectations for every coach on staff
Best Practices for Better Practices
A well-defined health coach job description helps standardize the expectations and responsibilities of the profession, ensures that health coaches hold themselves accountable, and promotes quality care for every client. With the Health Coach Job Description & Appraisal Packet, you can deepen your understanding of the best health coaching practices to build a better practice. Order your packet today — the best health coach you can be awaits!

SOURCE:
World Health Organization. "Social determinants of health."