Health Coaching
What Is A Health Coach? Why It's NOT A Wellness Coach.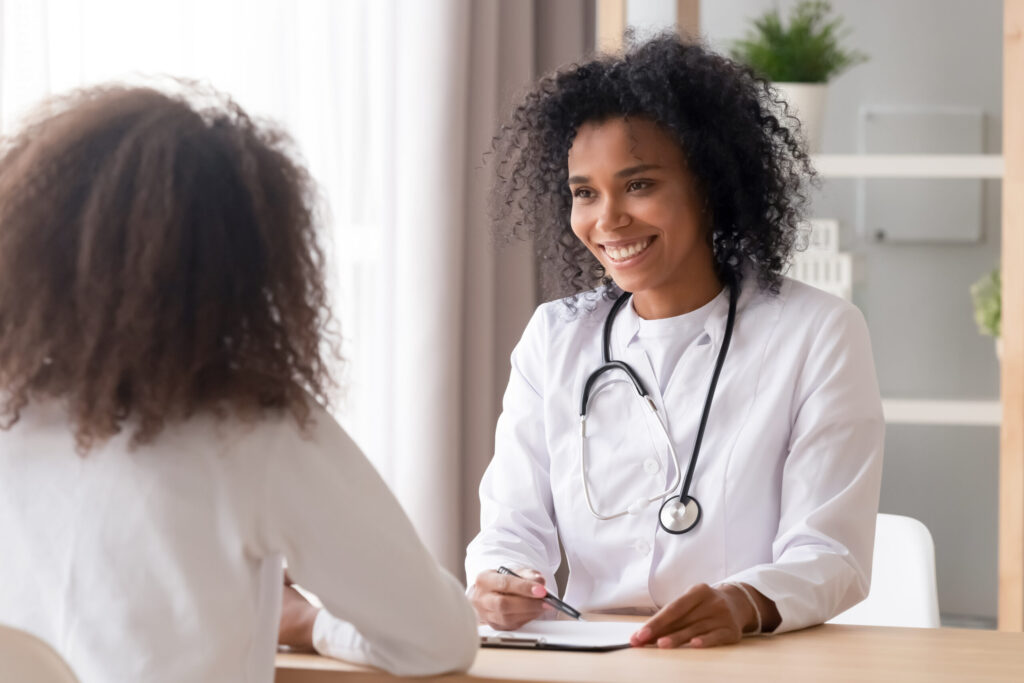 In the past decade, we have seen a shift in healthcare from a focus on treating diseases to a focus on preventing them. We understand that helping patients change their lifestyles to manage chronic illness benefits them and the healthcare system as a whole. As more healthcare professionals get on board with this philosophy, the need for health coaches expands. This career is expected to grow by 12% through 2031.
We want you to understand what a health coach is, what they do, and how they are a critical part of healthcare. This field appeals to people who are passionate about making a difference for their clients, and we are here to help you get started. 
Health Coaching Definition
Health coaches work with clients to understand why they want to make positive lifestyle changes.
As a health coach, you get to know your clients so they can see their own challenges and resistances to healthy lifestyle changes.
There are different types of health coaches.
As a coach, you may work with clients after they've received a diagnosis such as diabetes or autoimmune disease, guiding them through data-based changes they can make to manage their condition. If your clients haven't been diagnosed, they're likely at a moderate-to-high risk of developing a chronic illness, and it's your job to help them reduce the risk.
Some coaches who prefer to work with clients before they have developed a chronic illness become holistic health coaches. In this role, a coach works with clients to modify every aspect of their lifestyle for better mental and physical health.
Other holistic health coaches consider mental health and wellness, physical health, personal relationships, and more, painting a picture of how they all work together to contribute to a client's well-being.
Health coaches in our program have a clinical license and can practice in most health and wellness settings. You may also find reference to becoming a wellness coach when researching this field. Wellness coaching doesn't require a clinical license and has a broader, more general scope than health coaching.
Wellness coaches work with clients to maintain or improve their general health. They are limited legally in how deep they can go when providing information to clients. Wellness coaches can walk clients through the plans set up by their physicians, sharing only general information that's not restricted by healthcare regulations. For example, a wellness coach can help clients understand the diet and exercise changes they may need to make to prevent diabetes, but cannot prescribe medication or create specific diet plans.
Now that we've developed a better understanding of health coaching and how it differs from wellness coaching, it's time to further explore how to thrive in this field.
What Is a Certified Health Coach?
A certified health coach (CHC) is someone who has received board certification from the National Society of Health Coaches (NSHC). The training we offer in our certification programs gives our CHCs a comprehensive skill set to round out traditional healthcare plans and fill in common gaps in care. 
The American Medical Association (AMA) recently developed CPT codes that allow insurance companies to cover coaching services. Hospitals, clinics, and other potential employers will be looking for certified health coaches to fill these positions. 
Health coaching is a natural evolution for nurses and other care professionals interested in spending more time with individual patients to impact their care plans. The NSHC's Certified Health Coach is the only certifying body designed specifically for licensed professionals. 
We train our students in evidence-based coaching and motivational techniques to set clients up for success. Our program was developed by clinicians to build on existing training. It's a self-paced certification program that is affordable.
Join our CHC program to become a CHC. 
What Is the Role of a Health Coach?
Health coaches use motivational interviewing and other techniques to guide clients toward positive and lasting changes. Think about how many times you have tried to break a bad habit. You may have experienced success on your own, but it's easier when someone guides you through the process, shares tips, and holds you accountable. While working with clients, health coaches: 
Help clients understand their underlying motivation to change their lifestyle
Work with clients to uncover their blocks to change
Share evidence-based guidelines for changing unhealthy habits
Help clients understand their chronic illness and lifestyle factors they can use to manage it
Support their clients through these changes
Work with clients to set goals and track milestones
Share their expertise on diet, lifestyle, and nutrition
Physicians likely spend less than 20 minutes with their patients per visit, which is hardly enough time for patients to digest their diagnosis. Nurses get to spend more time with patients, but it still may not be enough to answer all their questions and help them prepare for life with a chronic illness. 
You may have become interested in health coaching because it offers the chance to walk clients down the road, answering their questions in detail and developing strategies they can use to improve their quality of life. You can serve as the catalyst that helps them manage their illness or prevent it from happening in the first place.
Health Coaching Examples
The scenarios that follow offer examples of how you can work with your health coaching clients.
The Clinical Health Coach
Our clinical health coach works at the hospital. Her client has just been diagnosed with Type II diabetes. He is scared and doesn't fully understand how the disease works or what he needs to do to manage it. He thinks he is going to have to stop eating pasta and ice cream forever and has been starting to feel depressed about these changes.
Our clinical health coach asks him questions about his lifestyle, his job, what he likes to eat, his workout routine, his family life, and his daily habits. She talks to him in a non-judgmental way, making notes and answering his questions.
She talks to him about Type II diabetes, discusses his lab results, and tries to uncover situations when he turns to high-carb foods for comfort. She then explains how carbohydrates, protein, fiber, and fat work together to impact blood sugar levels. 
They create a diet and exercise plan that includes how to balance his food intake and monitor his blood sugar levels. She assures him that he can still enjoy the occasional sweet snack, as long as he watches his portions and balances his diet.
He leaves her office with a better understanding of his disease and the lifestyle changes he can make to manage it. He starts to recognize that he eats sugary and starchy foods when he has a high workload and is feeling stressed out. He starts feeling less depressed about his condition and finds that exercising regularly helps him manage his stress.
The Private Health Coach
Our private health coach began his own practice to work with clients on a personal level outside the clinical setting. His client just turned 40 and is starting to deal with common aches and pains that accompany middle age.
The client has begun new exercise programs like yoga and Pilates in the past but has quit after a few classes. This time she chooses to visit a health coach and seek help making a new exercise program stick.
Our private health coach meets the new client and starts with a general assessment. He asks what she normally does, how well she sleeps, and where she has been experiencing pain. He helps her to understand that her long work hours not only make her stressed and leave her with less time to commit to a fitness routine, they negatively impact her posture, resulting in back and hip pain.
Our private health coach helps his client learn how to be more assertive and stop taking on more than she can handle. Then he helps her find an exercise routine she might find fun and easy to stick with. She settles on dance classes and commits to two a week.
Health Coaching Principles
These principles help improve our clients' chances of success.
Motivational Interviewing
Getting to the bottom of our clients' habits is one of our main responsibilities. To do it effectively, we need to talk to them in a way that doesn't make them feel attacked. Motivational interviewing sets the foundation for a more trusting relationship with clients. It is a collaborative technique you can use to create a partnership. 
Learning motivational interviewing techniques gives you the skills to ask questions that uncover the "why" behind your clients' habits.
Empathy
In health coaching, it is important to approach clients with empathy. In clinical settings, it's easy for clients to feel judged for their lifestyle. If your doctor were to ask you how often you drink alcohol, they're not doing it to pass judgment, but it can be hard to see it that way if your doctor has a terrible bedside manner.
Health coaches need to approach each client with empathy and understanding to build a supportive relationship.
Positive Psychology
Health coaches are not trained therapists, but you will use some of the same principles and techniques to guide your clients. Health coaching involves encouraging clients, celebrating their successes, and building on what they are doing well.
Forming and Eliminating Habits
Your goal as a health coach is to help people eliminate their bad habits and replace them with new, positive habits. This may involve goal-setting and strategic planning for success.
Benefits of Health Coaching
Your health coaching clients will also receive multiple benefits from their time with you.
Improved Health
Studies have shown that health coaching positively impacts a client's health. The patients who received health coaching showed improvements in blood pressure, total cholesterol, body weight, and body mass index, among many others. 
Reduced Stress
Health coaching goes beyond diet and exercise. The interaction between our private health coach and his client showed how health coaches can motivate clients to manage their stress. In that scenario, our health coach helped his client better manage her workload to reduce stress levels.
Improved Confidence
As health coaches, we're not telling people what to do, we're showing them how to do it. Since our clients are actively participating in their own health, they often grow more confident.
Goal-Setting Skills
Health coaching clients can use the techniques we have taught them in other parts of their lives. Since we teach them how to set and manage their goals, they will have a better understanding of how they can achieve other aspirations unrelated to health.
Comparing Health Coaching to Other Professions
Health coaching is often confused with wellness coaching, but it is not the same thing. Here is how this profession differs from other related careers.
Wellness Coach vs. Health Coach
Wellness coaches do not have the same breadth of knowledge as health coaches. Certified health coaches rely on the training they received during licensing to offer patients in-depth assessments of their health and wellness goals. Wellness coaches offer a more general assessment of clients, and they can't discuss any health issues that are covered under medical regulations.
Personal Trainer vs. Health Coach
Personal trainers deal exclusively in fitness. They show clients how to exercise to meet their fitness goals. They help correct posture during certain exercises and explain how each move impacts the client. They might offer diet advice, but they aren't licensed to provide diet plans.
Health Coach vs. Nutritionist
For diet plans, a client would need to see a nutritionist. These specialists know all about nutrition including vitamins and minerals. They can help clients manage food allergies or eat more healthfully overall.
Health Coach vs. Life Coach
A life coach guides their clients through personal and career changes. They use many of the same techniques you would use as a health coach, but they are focused on other habits. Life coaches might train clients on improving their self-esteem or changing negative relationship patterns, for example.
Now You Are Familiar With Health Coaching
Health coaching is a $7 billion industry, and physicians and other healthcare professionals have legitimized the field, proving its benefits. You can get into this field to work more deeply with patients and positively impact their lives. Help them manage chronic illnesses or make general healthy lifestyle changes. 
Whichever way you decide to go in your career, get a CHC certification from NSHC to arm yourself with the tools you need to be successful. 
SOURCES:
$7 Billion U.S. Health Coaching Market Gains Favor Among Consumers, Insurers & Employers. (January 15, 2021). MarketReseach.com. 
Clinical Effectiveness of Lifestyle Health Coaching.  (March – April 2017). American Journal of Lifestyle Medicine. 
CPT® 0593T, Under Health And Well-Being Coaching. Codify. 
Estimating Time Physicians and Other Health Care Workers Spend with Patients in an Intensive Care Unit Using a Sensor Network. (April 9, 2018). American  Journal of Medicine. 
Health Education Specialists and Community Health Workers. (2021). Bureau of Labor Statistics Occupational Outlook Handbook. 
How effective is health coaching in reducing health services expenditures? (February 2015). Medical Care. 
The National Prevention Strategy: Shifting the Nation'S Health-Care System. (November-December 2011). Public Health Reports.Time Allocation in Primary Care Office Visits. (October 2007). Health Services Research.